The basic engineering for the new vacuum column (3200/8500/7000 mm in diameter, about 61 meters in overall length, and around 760 tons in weight) and an Early-Work program for the column engineering have already been completed. Now the detail engineering, including technical and commercial procurement services are being processed. As of June, the construction supervision of the crude oil1 unit begins.
Running in parallel to this will be the detail engineering and procurement services for the regenerator project for the FCC unit. The site opening is planned for September, with the transport route and the pre-assembly area for the assembly of the regenerator parts being first to prepared.
To complete the package of work for the shutdown in 2016, EDL will take on other smaller projects in the respective plant areas. The work in the crude oil1 unit includes the replacement of a stripper column and in the FCC unit the LCO recovery project will be implemented.
A long time frame is not available for all the planning, procurement and the pre-assembly with all structural measures including the assembly of large equipment on site. The planned shutdown periods of 21 and 23 days fall far from the usual time frames.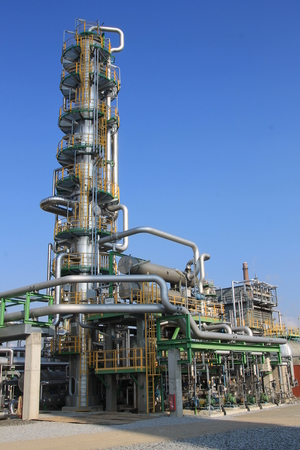 The replaced stripper column is 61 m high and weights about 760 t.
Trusting partnership for more than 20 years
The PCK Refinery has been a regular customer of EDL since 1993. Since then, a number of smaller, but mainly larger projects have been implemented jointly, including very impressive ones such as the construction of the propylene splitter, which is the tallest building in the region, rising 84 m.
This long and trusting partnership has been continued for many years. EDL, as the revamp specialist, has modernized several plants in the Schwedt refinery. And with every project the relationship has been strengthened and confidence has increased in the performance of the EDL. The refinery staff and the location are well known by EDL as well as the work processes, especially during shutdowns.
Looking back
In 2014 the HAZOP measures to increase plant safety were performed at the desulfurization plant DK2. The measures of the column replacement scheduled to be conducted during the 13 days shutdown went so smoothly that the system could be handed over to PCK one day earlier.
Thanks to the skills and competencies of the EDL employees as well as the good cooperation with each party, no one would doubt the quality delivered - the current revamp projects being realized on time serve to justify the trust placed in the EDL.
Media echo
ProcessWorldwide 22/05/2015 (E)