"OJSC NZNP would like to express its gratitude to company Pörner Ingenieurgesellschaft mbH for the cooperation during construciton of Biturox® bitumen production unit.", wrote General Director S. Ye. Pankov.
In October 2014, the new Biturox® plant began production. The customer "NZNP" increased the processing ability of the refinery. This will supply the entire Rostov region, an area of over 100,000 square kilometers with approximately 4.3 million residents, with bitumen for road construction, as well as extending the supply to other end-users in Russia.
The project
The project, which began in April 2011, included the Pörner licensing, laboratory pilot tests for the design of the plant, the entire basic and detail engineering (ISBL), the preparation for the authorities approval, purchasing and delivery of key components for the projects as well as supervision of installation and commissioning. The entire detailed design, designed according to international standards, was adapted together with a Russian partner for the submitting for authority approval to the Russian standards boards.
The execution
This is the largest Biturox® plant ever built by Pörner. The annual production capacity of the two reactors with a diameter of 3.6 m and a height of 20 meters is 660,000 tons of grade 60/90 road bitumen. Vacuum residues and HVGO (heavy vacuum gas oil) can be used from different crude oils. The facility has the latest generation of gas treatment and recovery facilities and thus meets all requirements for energy efficiency and environmental performance.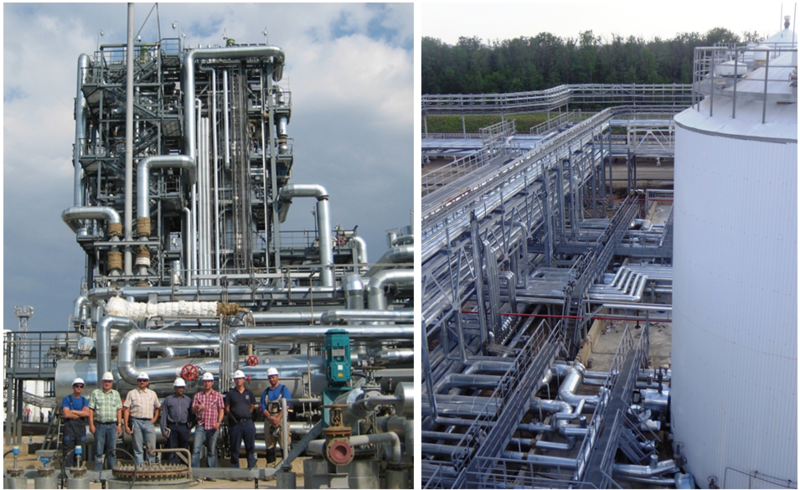 The Pörner team at the commissioning in August 2014 - The six tanks can store up to 6,000 t bitumen.

In the adjoining tank farm with truck and wagon-filling facilities, the produced bitumen may be stored in six tanks, each holding a filling capacity of 1,000 tons of bitumen. With the achieved annual production of bitumen a six lane highway could be built from Novoshakhtinsk to Moscow or a two-lane road from Moscow to Paris.
Pörner, the Austrian engineering office for process plant engineering is the world leader in equipment for the production of high quality bitumen binders by oxidation. Since 1978 Pörner has awarded 46 licenses for Biturox® plants around the world.
Novoshakhtinsk
The city of Novoshakhtinsk whose name literally means "New mining town" lies about 80 km north of Rostov-on-Don. It was founded as mining settlement near a mine in the early 20th century. Today, instead of coal mining, the light and food industry are the main economic activities of the city. The oil refinery was established in 2009 and is an important employer in the region.
Media Echo (Selected):
OEKB (EN)
Process World Wide (EN)